Assalamualaikum & heyy y'allz!
Apa yang I nak citer ni tak kena mengena dengan Lady Gila kat atas ni okay!
Okay, there's no big deal for those who don't what talent and what music is all about. But for someone like me...
I DO CARE!
Kita citer pasal Langkawi kemudian sebab sekarang ni I nak nyatakan pendapat tentang keputusan
Semi Finale of American Idol
(AI)
last nite
. Agak dah basi untuk citer tapi I peduli apa? I tak dapat nak
online
semalam
so
I citer lah hari ni. I tak lah mengikuti sangat
season
AI kali ni tapi memandangkan I ni peminat muzik sikit sebanyak tu ada lah jugak tertonton dan terminat dengan sesetengah bakat yang ada. Dulu...
Pia Toscano
yang keluo. Padahal dia layak untuk at least... at least ok! Untuk sampai
semi finale
tapi sedeyh dia keluo sebelum sempat dia nak tunjuk lebih lagi kelebihan.
Dah tu!
Casey Abrams
pun ikut jejak langkah Toscano sedangkan dia antara yang susah untuk kita semua jumpa dalam industri muzik tak kisahlah tanah air ke bukan.
And it happened again last Friday when
Hayley Reinhart
was voted out from AI. Yes! It means that she'll be not in the Finale of AI. Yes! I am mad. Bukan sebab I minat dia ataupun Casey. Memanglah... peduli apa kan? Bukan kawan I pun yang masuk ataupun I yang kena singkirkan tapi masalahnya adalah ada ke kualiti? '
X
'
factor
yang ada pada 2 finalis, Lauren dan Scott, I susah nak cari '
X
'
factor
they allz. I can't even imagine that they will be nominated in AMA or Grammy. I cakap melalui pengetahuan dan pemerhatian. I mungkin banyak tertinggal season kali ni tapi I bukannya cakap tanpa tahu apa2. I bukannya
emo
cuma I rasa I dah tak ada sebab2 yang kuat untuk I tengok
Finale
nanti. I don't know what do Americans want. From my oipinion, Lauren Alaina is like another appearance of Kelly Clarkson but more beautiful, bigger in size (no offence) but she doesn't have her own trademark voice. I tak cakap dia tak bagus. She has some 'WOW' moments, her vocal is 'clean' but I don't think that we want another
young country diva
. Scott... he's kinda cute yet a macho young man. Very innocent and 'pure'. His low tone is superb and extraordinary. Kalau dia Melayu mesti sedap nyanyi lagu Broery Marantika. Tapi masih ada yang lagi layak tapi dah tersingkir. Hehe~
Remember!
Just my opinion y'allz. I selalu
confident
cakap pasal benda2 ni. Tak suka sila pergi dari blog ini. I ada hak untuk suarakan pendapat. We'll see who's gonna be popular and get a lot of awards. Haha~
XOXO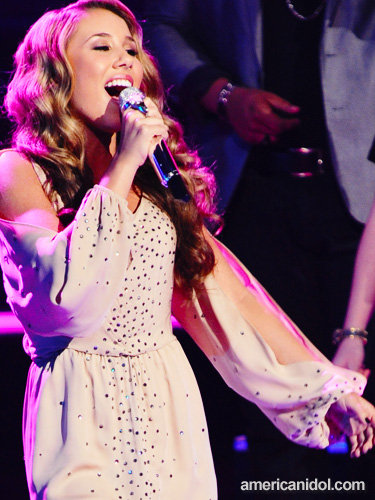 p/s: Takziah kepada ahli keluarga dan sahabat terdekat Rumah Ijabah Anak Yatim & Al-Hafiz atas kehilangan saudara2 Islam kita disebabkan kejadian tanah runtuh petang tadi. Al-Fatihah!